The red menu items require a USS Jouett Association Membership


This web site is dedicated to the Officers and Crews of the
United States Ships named Jouett - DD41/DD396/DLG29-CG29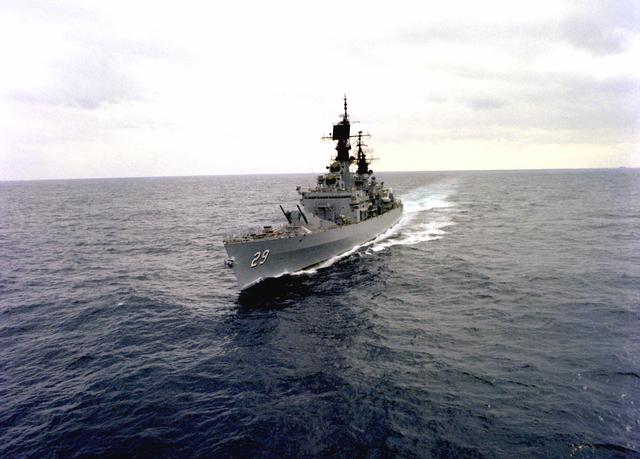 Happy 50th Birthday USS Jouett
50 years ago, on December 3, 1966, at Puget Sound Naval Shipyard,
Bremerton, WA, the United States Ship Jouett (DLG-29) was placed in commission.
On that very cold, rainy day a Navy band played "Anchor's Aweigh", and the
Officers and Men of Jouett's crew boarded this magnificent structure to bring her to life.
From that moment on and for the next three decades thousands of sailors would call Jouett home.
She and her fabulous crew would go on to make their mark in the Navy's history books as one of
the best trained, most capable ships ever to carry the flag of the United States.

Fair Winds And Following Seas,
Jerry Loveless
Plankowner

Dues are due
If you choose to continue your membership or join the Jouett Association the annual
dues are $20.00 and can be paid on-line with Pay Pal or a check made payable to the
'USS Jouett Association'.
This provides funding for our News Letter Mailing, Web Site, and costs to run the Association.
I hope you will choose to join us.
Please see the membership page for for all the details
http://www.ussjouett.com/member.htm
If you have any questions about the staus of your
membership please send me an email at:

Updated the Memorial Page

2/13/2017

The 2018 Reunion will be held
September 26 - 29 of 2018 in Alameda, California

Details of hotels, tours, meals etc
will follow as they become available
Please check the reunion page for updates
http://www.ussjouett.com/reunion.htm
8/27/2016

The USS Jouett Association is seeking applicants for
the position of Ships Historian

Please send the me an email if you are interested
webmaster@ussjouett.com





Visit the Final Cruise Page
Last message posted by Mark Berry on March 30, 2017, 12:46:24


For information on how to join the
Association please visit our Membership page
Creating lifelong friendships with people who you have never
met but already know so much about is an awesome experience.
2008 Reunion Attendee
I had a great time with great friends.
I had seen some of their pictures, read of or heard about them,
but had never met them.
We had all walked the same passageways,
climbed the same ladders, slept and worked in the same spaces.
Not all of us did this during the same time frame though.
Some were ten years ahead of me while others were ten years behind.
I call them all shipmate.
I call them all friend.




Last updated 3/30/2017
This site was created by and is maintained by Tim Kane, former GMG2 on Jouett from 1976-1979
© USS Jouett (DLG-29/CG-29) Association 2000 - 2016 All Rights Reserved